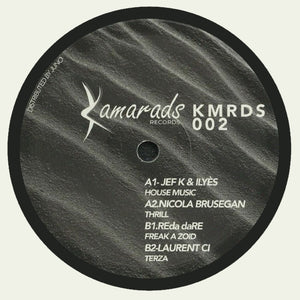 Kamarads Records is finally backand presents its second release made with four European producers from France & Italy. Jef K, icon of the Parisian house has collaborated on a track with Ilyes from the new generation of electronic producers based in France and you will also find Reda Dare who you already know, an important component of the new landscape of French house.

For Italians: Nicola Brusegan, ambassador and prolific producer of a fresh and romantic vintage deep house, made of analog synths and Mpc grooves and textures from Venice, and Laurent Ci who produced more of a minimalist house tinted with Romanian atmosphere and atmospheres.

The second Kamarads reference will be a Vinyl Only.

A1 – Jef K & Ilyes – House Music
A2 – Nicola Brusegan - Thrill
B1 – Reda Dare – Freak A Zoid
B2 – Laurent Ci - Terza