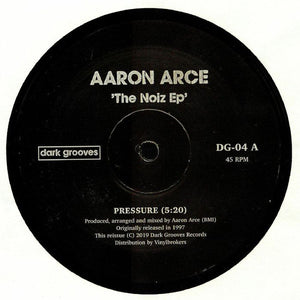 Aaron Arce is a composer, keyboardist, producer and dj raised in Boyle Hights, East of Los Angeles.
His attraction to House music came in 1985. Since then Aaron produced arranged and remixed several titles for MCA, Capital Records and different independent labels, also under the alias A-Factor.
During the early 90's the local labels lack of interest in house music motivated him to start his own label, Dub-A-Records.
Noiz Ep originally came out in 1996, and it's still definitely a strong record thanks to Aaron's skills in creating and producing quality house grooves.
A1 – Pressure
B1- Get Down
B2 – Party Down