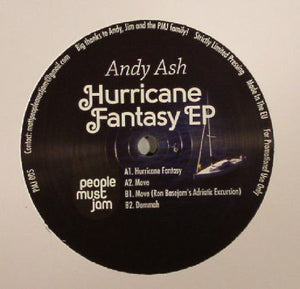 To keep people guessing, the fifth instalment from Australia's best selling People Must Jam label takes things in a house direction with Andy Ash at the controls. Andy has put through an immense EP of varying house flavours to satisfy an all tastes.

The EP kicks of with the monster disco vibed 'Hurricane Fantasy' track.
A beautiful summery looper that's sure to keep the floors burning hot!

'Move'is one of Andy's straight up house cuts - which he is becoming well known for, a deep sounding organ line carrying the track forward with stabs and a nice little vocal sample to boot.

Mixing things up a little on the flip, our good friend - Ron Basejam has provided a sublime 'Adriatic Excursion' remix of 'Move'. Ron takes the track to a totally different place with uplifting piano lines and orchestral string stabs building to a lovely crescendo. This remix should be earmarked for Croatia 2015.

Finally 'Dommah' takes the EP into almost techno territory with building pads and solid beats resulting in a monster track for when the strobelight pulses and the heads go down!
A1 – Hurricane Fantasy
A2 – Move
B1 – Hurricane Fantasy Ron Basejam Adriatic Excursion
B2 – Dommah