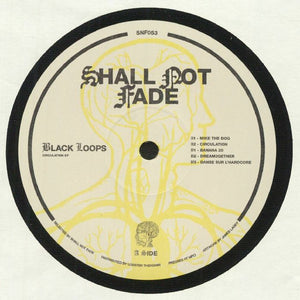 After a wafting deep house collab with fellow Italian Berlin resident Ruff Stuff, Black Loops (Ricardo Paffetti) brings Shall Not Fade a third EP of rolling, danceable house of the highest calibre. Paffetti has built a reputation as a creative, high-class producer and does not disappoint on "Circulation EP" - the Shall Not Fade regular makes tribute to classic Italian house while adding a futuristic, unique spin.
The 5-tracker opens with "Mike The Dog". It's a crazy electro-garage hybrid that foregrounds frenetic drum loops, while soft lofi chords give way to a disco-like bassline, starting the record off lightheartedly. Title track "Circulation" hits with a syncopated kick and dubbed out vocals that swirl in your head, contrasting a smooth, darker sound design made for sunset dancing.
Paffetti perfects a meticulous sound palette across the B-side. From "Banana 20", a pacey track lead by its squelching bassline, to "Dream2gether" - gliding lead synth, trading spotlights with the echoed vocal - these are love songs for the dancefloor. The EP closes out to "Danse sur L'Hardcore", a pumping beast of a house track studded with sparkling chord stabs and g-funk synth trills.

A1 – Mike The Dog
A2 – Circulation
B1 – Banana 20
B2 – Dream2getherB
B3 – Danse Sur L'Hardcore