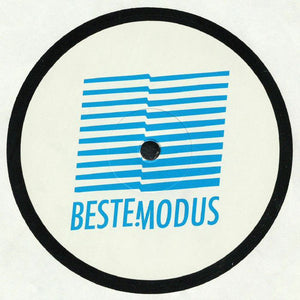 Berlin's Beste Modus has been moving from strength to strength over the past five years, with the DJ and producer collective all making their mark on the local scene in the German capital and across the globe. Here we see two of the members stepping up to deliver two-tracks each for the labels ninth release.

Cinthie takes the a-side and leads with 'Everything I Say', employing choppy synth stabs, bumpy bass and heavily swung 909 drums alongside a hooky vocal before 'Good For You And Me' edges into Garage territory, fusing bright piano chords and a stab-led bass hook with tension building strings and soulful vocals lines.

On the flip is two cuts from stevn.aint.leavn, the first of which, 'Quins', takes a more stripped-back approach via rumbling subs, metallic percussion and a stuttering synth line throughout.
'Spiff' then closes the package with an array of organic drum hits, soft
chords, airy chimes and heady electronic synths all unfolding dynamically throughout.
A1 – Cinthie – Everything I Say
A2 – Cinthie – Good For You And Me
B1- Stevn.aint.leavn - Quins
B2 – Stevn.aint.leavn - Spiff