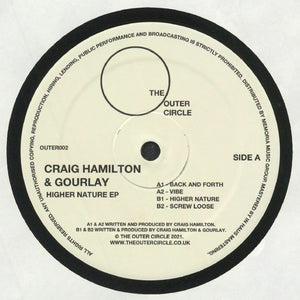 The Outer Circle is back with the next stop of the journey. Showcasing their signature sound across 4 heavyweight cuts from Glasgow based Craig Hamilton and Gourlay.
As the needle hits the groove "Back and Forth" the first of two solo offerings from Craig Hamilton sets the pace. Acidic tones cut through underpinned by a deep rumbling sub bass and intertwine with slick spoken word elements. We continue with "Vibe", a deep dubby underground workout. Sustained atmospheric pads build over a rounded bass with key stabs peppered throughout alongside female vocal samples.
Gourlay hops aboard for the flip side with "Higher Nature" the first of two tracks alongside Hamilton. A thick sub bass roams amongst arpeggiated 303 tones with fender Rhodes keys scattered throughout. The EP rounds off with "Screw Loose" mesmerising pads drift amidst a rolling bassline, haunting chords and brassy stabs between heavy kicks and rhythmic grooves.

A1 – Craig Hamilton – Back And Forth
A2 – Craig Hamilton - Vibe
B1 – Craig Hamilton & Gourlay – Higher Nature
B2 – Craig Hamilton & Gourlay – Screw Loose