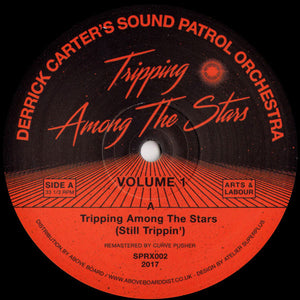 If mega-psychedelic tripping house excursions are your thing then it's entirely possible that Derrick Carter's Sound Patrol Orchestra may have exactly what you need. No exaggeration.
'Tripping among the stars' indeed. The 'other' version of this jam lifted from the 'Sweetened - No lemon' LP from 1994 is maybe a little better known, but these mixes right here are worthy of all your attention too! 3 non-stop funk excursions into the cosmos with Derrick and Co. joining you and guiding you with their cosmic voices. It's hard to pick a favourite as all included are very different beasts yet somehow essential. Honestly, this EP kinda shits on most things that you may hear currently and this stuff is from 1997.
The 'Still trippin' mix is definitely a standout, a free, weaving, 12 minute plus colliding jam that just opens up and evolves real lovely, exactly the kind of record you want to hear around 7am on a smoky dance-floor somewhere. Pure after hours perfection.
The other mixes are just as potent, with a heavy cowbell laden DC dub mix that's brimming over with live drums and handclaps and a superb bass laden Wamdue Kids mix that takes off into the stratosphere of deep. Basically, this whole record has it covered. Literally, it shouldn't leave your bag anytime soon. Essential new (old) school Chicago gear that just won't quit. Thank the heavens we all get the chance to trip again with this beautiful repress! Essential.
Remastered and repressed with the involvement and welcome assistance of the Mr. Derrick Carter, Chicago USA. 100% legit.
A1 – Tripping Among The Stars (Still Trippin')
B1- Tripping Among The Stars (Live @ Idful)
B2 – Tripping Among The Stars (Wamdue Kids Remix)