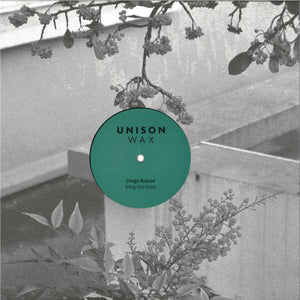 Diego Krause's Unison Wax return this June with a new four-tracker from the man
himself, coming in the shape of 'Bring The Noise'.
Berlin's Diego Krause launched the Unison Wax imprint in 2014 as a platform for his
own material, the Beste Modus co-founder has since gone on to release an impressive
back catalogue of music on the likes of Berg Audio, Apollonia, Pleasure Zone and
Sukhumvit amongst others, a testament to the quality embodied in his output. Here
though, Diego makes a welcome return to his own Unison Wax, again showcasing his
slick and percussive-led take on contemporary house.
Opening the package is 'Bring The Noise' with billowing chords, filter-swept vocal
murmurs and Diego's signature swinging drums. 'Phenomena' follows and tips the
focus over to loosely flowing natural percussion, rounded low-end pulsations and
sporadic dub stabs to create a heads down, hypnotic groove.
'The Company You Keep' opens the B-Side, taking a more stripped-back approach with
shuffled, crunchy drums and murky bass stabs before 'Lost Tribe' completes the
package, fusing spellbinding percussive modulations and fluttering synth swells with a
sturdy, organic rhythm to keep things moving.
A1 – Bring The Noise

A2 – Phenomena
B1- The Company You Keep
 B2 – Lost Tribe