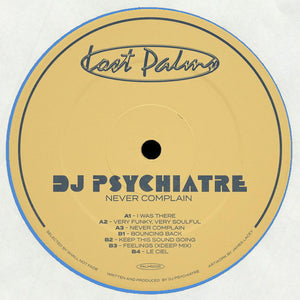 Shall Not Fade sub-label Lost Palms welcomes DJ Psychiatre (Sylvain Creton) to its cadre for an extended EP of hypnotic house, following on from his stellar contribution to Shall Not Fade's 5 Years compilation. The enigmatic French producer has always let his music speak for itself, and on Never Complain he cures lockdown blues with a collection of tracks that are uplifting and carefree.
DJ Psychiatre channels classic deep house and laid back, sultry vibes across the record. "I Was There" is built around a funky bassline but isn't overstated, tempting the listener in with swirling synths. In contrast, "Very Funky, Very Soulful" is exactly that: a grooving number that gets your hips moving. Genre-hopping, Creton then presents us with a rigid techy number in "Never Complain", still making way for some dusty soulful chords in a callback to his lofi roots.
On the B-side, "Bouncing Back" ups the tempo - pacey and danceable hard-hitting house. "Keep This Sound Going" is a swinging piece, somewhere between lounge jazz and house music for the early hours, and there's some old-school deep tech stylisation in the infectious bassline of "Feelings - Xdeep mix". Seductive whispers that tempt the dancer give way to a syncopated rhythm and funky, slapping bass in the record's climax, "Le Ciel". With an elongated 303-laden outro, it's as if Creton doesn't want the music to end - and neither do we.

A1 – I Was There
A2 – Very Funky, Very Soulful
A3 – Never Complain
B1 – Bouncing Back
B2 – Keep This Sound Going
B3 – Feelings – Xdeep Mix
B4 – Le Ciel