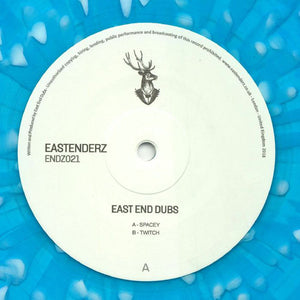 Eastenderz released ENDZ 021 on 15 June 2018. The 2 track vinyl features artists including East End Dubs.

East End Dubs has released vinyl on East End Dubs, Metroline, Eastenderz, Social, Dogmatik, INFE (vinyl only), Fuse London.

The record label Eastenderz has released vinyl by Ittetsu, Subb An, Vlad Arapasu, Doubtingthomas, Nami, Vincent Adrian, Alejandro Vivanco, Optique, East End Dubs, Wickham, Cosmjn, Lorenzo Chiabotti, Arapu, Lizz, Priku, Viceversa, Xandru, Christian Burkhardt, Patrice Meiner. 
A1 – Spacey
B1 – Twitch