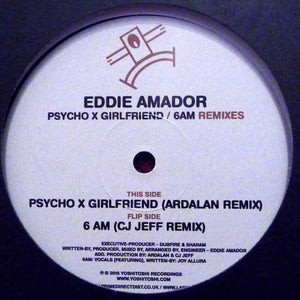 Yes, we're back at it again with more Eddie Amador. After the success of House Music and Rise, we decided to diversify and go for a double A sided remix package with two distinctly different remixers. So please welcome Ardalan and CJ Jeff to the Yoshitoshi family! Given Ardalan's propensity for booty basslines and infectious grooves, Psycho X Girlfriend seemed like the appropriate choice for the Dirtybird affiliate. He flipped the tracked on its head by pumping it full of sub 100 Hz frequencies, mental sound effects, and even a pinch of acid.
The remix again shows this young gun's talent for creating bona fide bangers that keep the spirit of house alive.
Greek house don CJ Jeff took on 6AM, the groovy and oft-overlooked 2006 wee hours anthem from Amador.
His remix bears a massive 808 kick that floors the mix (no pun intended) into overdrive. His simple, catchy melodies capture the classic Yoshitoshi vibe beautifully.
A1 – Psycho X Girlfriend Ardalan remix
B1 – 6AM CJ Jeff remix