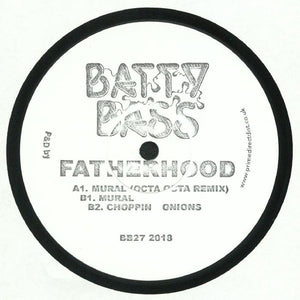 Following on from the massive Ashley Beedle remix of Mama 'Unmask me' (BB26), Hannah Holland's Batty Bass imprint welcomes back underground New York duo, Fatherhood with the addition of a stunning Octo Octa remix.
The perfect union of Michael Magnan and Physical Therapy, who previously remixed The Carry Nation 'As If' release.
Mural and Choppin Onions are a melting pot of styles, born from ballroom, future jungle, trippy and retro house.
Octo Octa is an artist who has continued to create beautiful, forward thinking, dance music, and her remix is no exception, get ready for the journey!
A1 – Mural Octo Octa remix
B1 – Mural
B2 – Choppin Onions