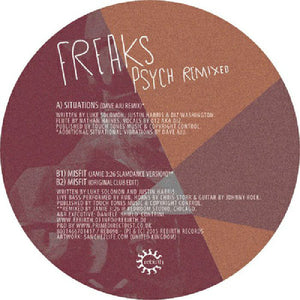 'Psych', the long-awaited Freaks album released in 2014 gets a re-release in 2015 with some brand new remixes.
Freaks, a musical partnership between Luke Solomon and Justin Harris that's spanned twenty years and includes the Music For Freaks label, four albums, and an avalanche of singles on the likes of Playhouse and Hot Creations to Crosstown Rebels, News and International Deejay Gigolos. The album was released to rave reviews and featured a much awaited gathering of material from the late 00s onwards, including collaborations with Robert Owens, Stella Attar and Diz Washington.
This 12" includes interpretations from Dave Aju, Jamie 3:26 and Freaks.For over a decade, San Francisco innovator and a vital part of Circus Company, Dave Aju has been producing and performing his unique brand of electronic dance music, a consistently fresh and expressive sound.
His remix of 'Situations' makes no exception, a strong piece of jacking house music with bubbling sub bass, strong raw percussive beats, and an effective use of Diz' vocals and the flute sound. On the B Side 'Misfits' is reworked by Chicago's master Jamie 3:26 who turns the tune into an acid house monster and by Freaks themselves who extend their Original version for dance floor action.
A1 – Situations Dave Aju remix
B1 – Misfit Jamie 3:26 Slamdance version
B2 – Misfit original club edit