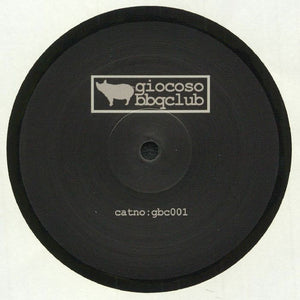 Getting things cooking up nicely, the first release from Terry Farley's lockdown collaboration project, alongside Gary Ellis from South Beach Recycling, Giocoso BBQ Club, turn the gas to full for this three-track feast of prime house cuts.
Served up first, what originally started as an edit of a disco standard for personal use, has been updated and reworked over lockdown into a straight up, minor chord, primetime, 909 Bassline led, NYC real house track that could easily be circa late '90s early 2000's.
Second on the grill, track two has been built to hug you musically rather than punch in the face like it's big brother, and is far more suited to the early hours for the long stayers, or for that matter on the sofa. Traditionally Rhodes-led deep house.
Last but not least, (Runway use only) deep, choppy, Detroit/Chicago/NYC Deep house built in homage to the ballroom.
Grub's up with Giocoso BBQ Club. Seriously smokin' stuff.

A1 – 001T1
B1 – 001T2
B2 – 001T3