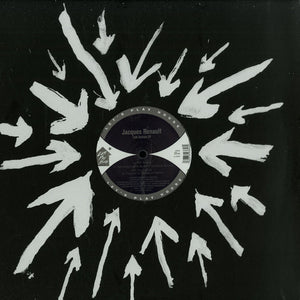 Let's Play House co-founder, Jacques Renault, delivers a superb four-track EP this July in 'Talk System', which features a couple of remixes from John Barera & Will Martin and Sisterhood.

The ever-impressive producer returns to his own imprint this summer with his 'Talk System' EP, a heavy- hitting release that preludes his long-awaited album, set for release later this year. Jacques title cut 'Talk System' unfolds at the sublime pace of an evening stroll, fusing every arpeggio, hissing snare and shining synth in effortless fashion to culminate in dreamlike delivery that drags you empathically to the clouds. Fresh off the back of their recent mix for XLR8R, Argo affiliates John Barera & Will Martin put their stamp on the original to dish up a riding 4/4 groove driven by infectious bassline hooks and a hype old school vox - a slick and dynamic throwback to 90's house.

On the B-side 'Psyched Up' is built over stripped back drums and tough pads, for the core of proceedings Jacques employs an oscillating hook and stabbing chords to infectious and mesmerizing effect. Harry Benson and John Malcom Moore aka Sisterhood step up for remix duty here, the London-based pair harness the dominant feature of Renaults original to craft an even more spectral version, seamlessly layered over shifting percussion and soft washes of bass.
A1 – Talk System
A2 – Talk System John Barera & Will Martin remix
B1 – Psyched Up
B2 – Psyched Up Sisterhood remix