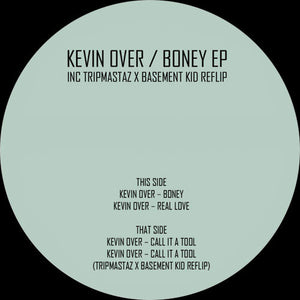 Showcasing the exceptional talent within the Underground Audio family, we are proud to bring you Boney EP by our very own Kevin Over. Hailing from Germany, Kevin has been producing and performing from a young age, with a keen focus in the tech-house and techno genres. Over the recent years, he has taken the industry by storm and is now a household name with releases on Truesoul, Mobilee, and many more. It gives us great pleasure to share with you his freshest sounds within this four track EP. Kicking off with his signature dark and heavy sound is Boney. With deep kicks and a diabolic sub-bass as a foundation, this track gears itself to be a minimal tech weapon.
Layers of smooth synth stabs and snappy vocals, and breaks filled with sustained synths create an air of mystery throughout, making this track a wonderful after-hours groover. Up next is Call it a Tool, an uptempo techno number formed over Kevin's keynote underground feel. Pulsating with attitude throughout, this track is perfectly placed to build up energy in any application.
A deeper yet percussive rendition of the original by Tripmastaz and Basement Kid offers another hard-hitting techno weapon.
Closing off the EP is Real Love, a chunky groover with a fast-moving, fat bass riff pushing at the seams of the track.
A variety of bright percussion flows right through, controlling the pace and growing tension, leaving you wanting more.
Boney EP by Kevin Over, proudly brought to you by Underground Audio.
A1 – Boney
A2 – Real Love
B1 – Call It A Tool
B2 – Call It A Tool Tripmastaz x Basement Kid reflip