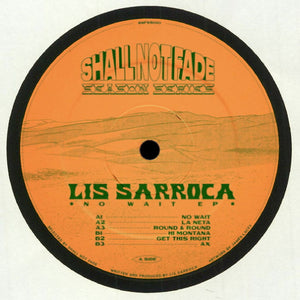 Barcelona-based DJ, crate digger and producer Lis Sarroca makes her debut on Shall Not Fade's coloured vinyl series marking the tenth release on the imprint.
Taking influence from her extensive travels - before lockdown hit - Sarroca mixes classy 90s house rhythms with standout melodies. No Wait EP follows on from her 2020 release on Hot Haus Records. Sarroca describes her music as "danceable, energetic, deep and warm", an ethos reflected throughout this EP. Despite dabbling in variations on dance music, stripped back disco to punchy tech house rhythms, this record is accomplished and consistent, coming together to deliver memories of sweaty summer club nights. "No. Wait" references French filter house, pairing a chugging bass and booming kick drum with sparkly disco keys into one very sultry track.
In "La Neta" Sarocca turns her attention to electro with the squelching bassline and drum machine loops but uplifting chords bring it back to house roots. There's a little bit of Kraftwerk in "Round & Round", a hypnotic pulsing track with synths of a distinctly German sound palette; it's the darkest moment on the record.
The B-side is expansive feel-good house, "Hi Montana" plays with dramatic strings while "Get This Right" is a certified summer anthem of sharp chord stabs and clean bassline made for the beer garden. No Wait closes with "AX", a piece of fun cowbell-smattered organ house.

A1 – No Wait
A2 – La Neta
A3 – Round & Round
B1 – Hi Montana
B2 – Get This Right
B3 – AX