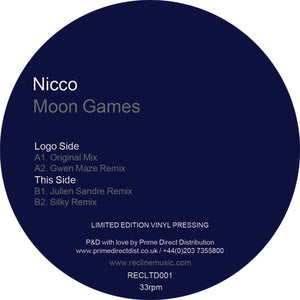 Italy's Niccolo' Detti aka Nicco launched the Recline Music imprint mid 2008 and has since gone on to release material from the likes of Oxia, Mic Newman and Anonym. Here we see Nicco return with some new material via the imprint, in the shape of 'Moon Games', whilst enlisting some heavy hitting remix artists as well to create a punchy package with a widespread appeal.
The original mix of 'Moon Games' kicks things off, a classic meets contemporary house number. Fusing old school elements such as meandering organ lines and stuttering guitar licks, while dubbed out vocals and bumpy rhythms add a modern charm to the composition.
French producer Gwen Maze, known for his work with Silver Network and Moodmusic offers up a remix next, pulling back the vibe to a more hypnotic, understated feel with ethereal pads, bubbling synth stabs and growling low-end tones. This is followed by Morris Audio's Julien Sandre who drops his remix next, and as expected it's a no nonsense house cut, tipping the focus over to a chuggy bass groove, tension building strings and rugged drums, resulting in a weighty peak-time interpretation.
Then Faceless Recordings co-founder Silky closes the package with his reshape, dropping the tempo and instilling some psychedelic aesthetics into the mix. The record veers things into darker territories with melancholy synthesizers, drawn-out subs and a gritty minimalistic feel to the drum programming, rounding things off brilliantly.
A1 – Moon Games
A2 – Moon Games Gwen Maze remix
B1 – Moon Games Julien Sandre remix
B2 – Moon Games Silky remix