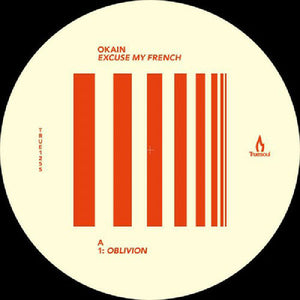 Since its birth in 2002, Truesoul has grown into a solid, dependable label. Known as Drumcode's little brother, Adam Beyer has taken Truesoul and twisted it into a platform for new and emerging talent to be thrust into the world of electronic music. Each release has its own unique identity and each track brings something new and unique to the label. The quality of each track is paramount and that has been proven with previous releases from some of the finest talent within the industry.
With future releases from the likes of Reset Robot and Geddes, Truesoul is positioning itself as a label to be reckoned with.
Okain is a French DJ and producer who's grown up in Paris. He has previously released on labels such as Tsuba, Bpitch Control, Quartz, Viva and Upon You which, has gained him recognition across the board.
He has toured around the world at clubs such as Fabric, Rex Club, Row 14, Watergate and more helping him to become one of the most charted artists on Resident Advisor. A new name to join the ever-expanding Truesoul roster is 'Okain'. His first EP on Truesoul majestically crosses the paths between house and techno. Using deep underlying sub bass rhythms throughout his tracks, Okain creates grooves that maintain an extremely funky feel throughout this EP.
The use of percussion helps to reinforce this and keep the free flowing momentum going strong.
A1 – Oblivion
B1 – Circles
B2 – Stab