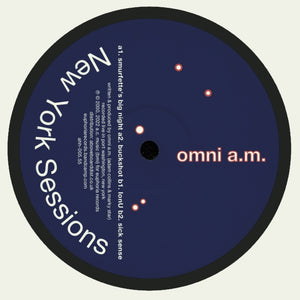 Emerging from the dark recesses of the Chicago and London underground, in 2000 Omni a.m. relocated to New York. This EP marked their first release in their new surrounding', it's an intense and highly sought after 4 track EP that showcases the duo's continuing originality and guile.
First up 'Smurfette's Big Night Out' is imaginative in it' approach, there's punchy beats and cascading percussion that drive the track along and really deliver the funk. Psychedelic acid touches interweave with haunting pads and a super deep b-line creates chemistry like no other.
Next is 'Buckshot' a more stripped back rolling affair. Undulating synths and swathes of infectious bass build the track throughout, whilst spacious analog delays and dub influenced sonic tricks abound. Over to the flip where 'I On U' is a wonderful floor friendly roller coaster of a ride, intro'd by a super phat kick, there's stuttering snares that jack and swing, whilst warm synths bubble and filter. Lastly 'Sick Sense' sets the controls for deep space, the bold throbbing bass makes it proper heads down groovin' affair, and the expertly programmed spoken word vocals interplay to add intrigue and atmosphere.
New York Sessions is a cherished release from the Omni a.m. catalogue, a classic where all 4 tracks ooze class and character. This EP has certainly stood the test of time and has been lovingly remastered by Curvepusher for today's discerning minds and dance floors, full support already coming from Raresh and SIT.

A1 – Smurfette's Big Night
A2 – Buckshot
B1 – I On U
B2 – Sick Sense