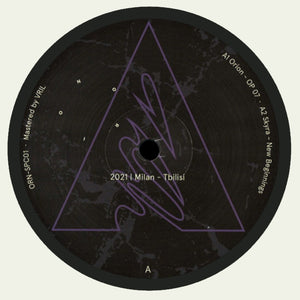 Orion Records is all about freedom, Techno freedom. The Milan based label is an open space for club and non-club music.
SPECIALE_01 is the first chapter of a new series of featuring between Orion and various artists close to their circle. For the opening record the guest is Skyra, regular dj and sound engineer of the infamous Bassiani club in Tbilisi.
"New Beginnings" and "Unite" are two live jams recorded last year in his own studio. Floating pads, repetitive percussions and straight kick drums will take you into a deep and endless techno journey.
At the same time the Italian duo present their softer and deeper side with two new original tracks. Strong and melodic basslines are the main elements inside OP 07 and OP 04, together with timeless acoustic drums and layered pads.
Welcome to Orion's special place.

A1 – Orion – Op 07
A2 – Skyra – New Beginnings
B1 – Skyra - Unite
B2 – Orion – Op 04