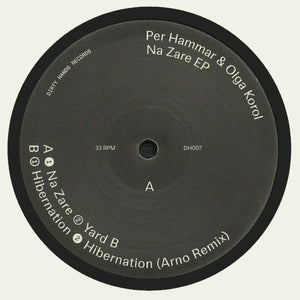 Per Hammar's Dirty Hands label lines up a versatile stack of tracks from the label boss himself together with owner of BodyParts Records, Ukraine's Olga Korol.
Na Zare kicks off the EP with pace – a peak-time roller which features vocal snippets of Korol, inspired by legendary 80s soviet rock band 'Alliance' and their captivating and poetic track Na Zare.
The second Track on A-Side Yard B develops into more after-hour territory, offering moody undertones layered with bouncy twangs and lighter high hats, with Korol describing it as 'the kind of sounds you'd enjoy in the backyard at the after-hours'.
On the flip side Hibernation – which the guys describe as having a slightly different atmosphere to the first two tracks and more down tempo in contrast.
Pressure Traxx label head Arno comes in on the EP for remix duties, with his cosmic rerub of Hibernation, sealing the eclectic 4 track package.

A1 – Na Zare
A2 – Yard B
B1 – Hibernation
B2 – Hibernation (Arno Remix)