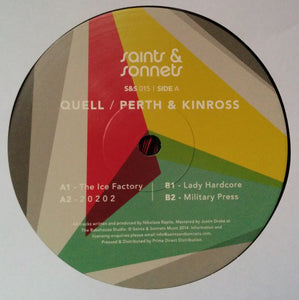 Saints & Sonnets drop its fifteenth release, the 'Perth & Kinross' EP coming courtesy of Quell.
Nikolas Raptis aka Quell is a Greek producer currently residing in Berlin, Germany and since dropping his debut material back in 2007 has gone on to deliver output for labels such as Ibadan, Kolour, 2020Vision and Tsuba. Here we see Raptis join the Saints & Sonnets roster, following recent releases from Artifact, Jabru and Three Bar.
Opening the release is 'The Ice Factory' which sees Quell employ distorted 909 rhythms; insistent stab sequences and an acid-tinged bass hook to open up the EP with a punch. Following is '2 0 2 0 2', retaining a similar aesthetic to the preceding cut with crunchy analogue drums, while raw stab hits, tension building sweeps and heavily processed vocal chops generate a frenzied feel to the composition throughout its near nine-minute duration.
First up on the latter half of the 12'' is 'Lady Hardcore', and as the name would suggest we're treated to rave-infused workout built around shuffle amen breaks, heavy doses of sub bass and square wave stabs and a general nod to the 90's embodied throughout. 'Military Press' tips things back to the 4/4 with a chuggy bass hook, expansive atmospheres and wandering arpeggios accompanying the rock-sturdy rhythms.
The package is then rounded off with Digital Extra 'Disorder', a great contrasting cut to the preceding records veering things into deep-house territory with floaty pad lines, fluttering resonant synth licks and an amalgamation of evolving chords, closing the package on a classy, understated tip.
A1 – The Ice Factory
A2 – 2 0 2 0 2
B1 – Lady Hardcore
B2 – Military Press