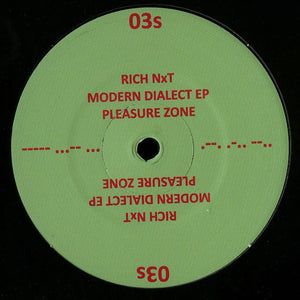 FUSE's original residents, Rich NxT played a major part in the brand's evolution, helping take it from that Sunday morning afters to being one of the most respected event brands and labels on the planet
Ever since the age of 10, Rich NxT has been involved in creating his own music. Thanks to his early training as both a drummer and keyboardist, NxT has an inherent musicianship fully apparent in his sound and style of production. Taking influence from the London rave scene of the early 90s spanning drum n bass and jungle and later the minimal and tech-house scenes of Europe, NxT's output found a platform on the now world-class FUSE London label (launched in 2011). A core artist for the label, with five solo EPs and a collaboration alongside Seb Zito, Rich NxT has been integral to FUSE's trademark sound with his debut EP 'Bristle' and 'Quixotic' EP two of the labels defining moments. NxT and Zito's chemistry in the studio is clear with a further two collaborations on FUSE sister label Infuse. Alongside his own productions, NxT's remix catalogue includes Seb Zito's 'Never' with Enzo Siragusa and his original breakthrough remix of Jon Maker's 'Seeker', which was championed by tINI and many other leading DJs in the minimal house scene.
By the end of 2016, a residency at Amnesia Ibiza with HYTE x FUSE alongside dates at Off Week in Barcelona and several stand out events on FUSE's 8th birthday tour including an epic after hours set at Berlin's Hoppetosse proved NxT is on top of his game. NxT also launched his own imprint NxT Records that year, another platform for his own consistently quality output. Several releases down the line, NxT's distinctive style layered with intricate percussion, obscure synths and ethereal pads combined with punchy snares and atmospheric vocals is marking out the producer and label as a prime source for DJs and vinyl lovers. 2017 sees the launch of a second vinyl only imprint What NxT, a home for musical discoveries that end up buried deep in his own record bag. Featuring both emerging talent and established artists from the UK and beyond, What NxT All roads lead to the rave.
A1 – Modern Dialect
B1- Shash