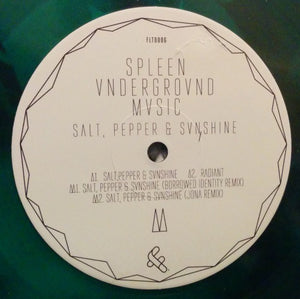 FLUMO LIMITED 006 // SPLEEN UNDERGROUND MUSIC // 'SALT, PEPPER & SUNSHINE EP' remixes By Borrowed Identity & Jona
We return to wax for our sixth vinyl release, this time in the form of a full coloured 12" green offering from SPLEEN UNDERGROUND MUSIC (S.U.M.). The aforementioned are truly ones to watch, Sam Rouanet, Giovanni Verga, Takeshi Nishimoto and their analogue sounds making serious waves in their native home of Berlin, as well as further afield. Take note, this is one to remember, one ready for the dance floor... this is the "Salt, Pepper & Sunshine EP"
The first side of the release is layered with two originals from S.U.M., "Salt, Pepper & Sunshine" putting out base heavy beats and melodic grooves, which blend together to create a track which encompasses and absorbs. "Radiant" then serves up a drum filled offering with layers of spectral sound which both mesmerises and transfixes.
As we turn onto the back side of the release, on point artist, "Borrowed Identity" is on hand to put his dance floor ready sound to work for a remix of "Salt, Pepper & Sunshine". Almost unstoppable after releases on the likes of Ostgut Ton, Mistress and Quintessentials... this offering shows no let up, with warm Sonics showcasing his ability to put out house cuts which are always on point and ready to encapsulate the mind and move the feet.
Drawing things to a close is another remix of "Salt, Pepper & Sunshine", this time from Jona, who after dropping sounds on the likes of Planet E, Dessous or Get Physical, steps up to mark to deliver a remix which thrives on synthetic textures and irresistible rhythmic programming. Its blend of high notes and deep underlying grooves providing the perfect end to a release which is set to turn many a platter and head.
A1 – Salt Pepper & Sunshine original mix
A2 – Radiant original mix
B1 – Salt Pepper & Sunshine Borrowed Identity remix
B2 – Salt Pepper & Sunshine Jona remix