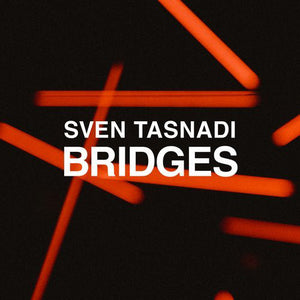 Tasnadi hails from Leipzig and is a master of groove. He distills his tunes to the core elements needed to get you moving and feeling good, and has done so over three artist albums and more than 25 EPs since 2005. For this album, though, he decided to work with a range of musical friends as a way of, he says, making a clear statement against the current worldwide trend of protectionism.'
The album is informed by the saying Build bridges, not walls', and as Sven explains, bridges bring people together. And only when we come together can we change things for the better. The house and techno scene initially attracted me 25 years ago as it was filled with people who were open-minded and versatile in nature, and I'm going to do my musical part to keep it that way.'
The album kicks off with the effortlessly cool and breezy house groover 'Nothing' with David Jach. Things get cheeky with the late night chords and rolling bass of 'My Soul' with UK master Huxley and then Italian titans Supernova appear on 'Keep Da Shit', a more edgy tech tune with smart vocal stabs to bring the energy levels higher. Sven goes solo for the feel good vibes of 'It's Your Love' with its heart aching vocal sample, and again for the tropical, exotic and melodically colourful 'Tequila' which takes us deep into the jungle. Filburt is the friendly connection on the deep, cuddly jazz keys of 'French Dress' and after a brilliantly loose hip hop interlude, Sven cooks up the sample heavy, party starting 'Get Down' with Mac-Kee. Two versions of 'Make It Right' offer heartfelt, raw house while 'Strings Rebirth' is a freaky late night cut with warped synths and naughty bass and 'Bug In My Machine' with Moses Mehdi closes things out in starry eyed and cosmic melodic house territory.
A1 – Nothing feat David Jach
A2 – My Soul feat Huxley
B1 – Keep Da Shit feat Supernova
B2 – Strings Rebirth