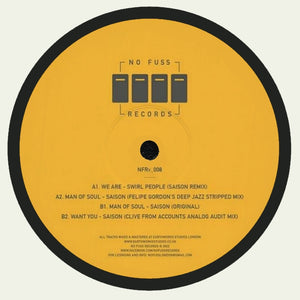 No Fuss is back adding another quality lineup for their 8th vinyl sampler. A1 sees Swirl People's "We Are". The original was was released over 20 years ago on the classic West Coast label Seasons Recordings.
Saison offer a driving bumpy deep house interpretation that is bound lift you up out of your trousers and hit the dance floor with both hands in the air. A2 is no other than man of the moment Felipe Gordon. FG provides a soundscape to your chilled summer by the ocean with a stripped back jazzy version of Saison's "Man of Soul" which we have included on B1.
To round things off we bring in one of our favourite new comers Clive From Accounts on remix duties for Saison's "Want You". If you like your music all analog, synthy, emotive, and full of audits this is one for you and your accountant's cart. You may even be able to write it off on your taxes.

A1 – Swirl People – We Are (Saison Remix)
A2 – Saison – Man Of Soul (Felipe Gordon Deep Jazz Stripped Mix)
B1 – Saison – Man Of Soul
B2 – Saison – Want You (Clive From Accounts Analog Audit Remix)