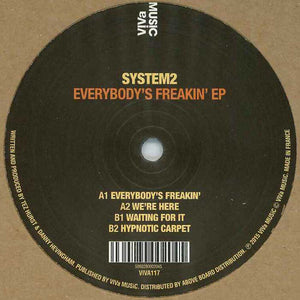 Mancunian duo System2 are up next on VIVa MUSIC, with six high­energy tracks that wouldn't have sounded out of place at The Hacienda.
"We've been waiting a long time for this production to be released and we are so hyped for it now. The tracks have come from some inspirations like the Karlovak series by Mr Tophat and Art Alfie. We've maintained our System2 sound with a twist in some tracks, going for a more hypnotic feel in some of the music. We can't wait for it to be shared with the world" - S​ystem2
Title track 'E​verybody's Freakin'​' sets the tone for the EP, closely followed by the gritty bass and catchy snares of 'W​e're Here'​. The intensity drops with 'W​aiting For It'​and 'H​ypnotic Carpet'​, but both still deliver a whirring groove. The package is completed with the two digital extras 'H​ome Time'​and 'K​eep Going'​.

o+ System2 is a relatively new alias for a previously well known duo. They had a loyal following before taking on this new identity, with releases on G​et Physical, Nervous, PIAS a​nd C​écille Records.​By reinventing themselves, however, they have been able to create a different sound which is also proving popular.
o+o L​ast year saw S​teve Lawler s​ign them exclusively to V​IVa MUSIC,​after gaining strong support from Loco Dice, Hot Since 82, Dubfire, Jamie Jones, Shonky, Richy Ahmed, Shaun Reeves, Patrick Topping and Adam Shelton among others.
A1 – Everybody's Freakin
A2 – We're Here
B1 – Waiting For It
B2 – Hypnotic Carpet