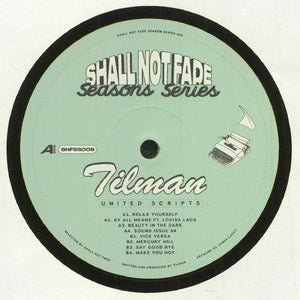 Tilman is back again on the Shall Not Fade Seasons Series imprint. The German producer, who specialises in pumping, jazz-inflected house, brings the positivity of his personality into his music - "United Scripts", his longest release yet, has the sweet sounds of summer interwoven throughout.
The EP sees him moving away from sample-heavy house, although the first track "Relax Yourself" is still a sample-driven house piece that is classic Tilman. In contrast, "By All Means" beautifully showcases his abilities as an instrumentalist - sublime keys that are interspersed with singer Louisa Laos' R&B vocals. It's the first time Tilman has worked with a singer, and a standout moment in the record, a song with potential beyond the club. "Beauty In The Dark" uses peaceful flute stabs to contrast with a real deep bassline; somewhat dreamy, but still a danceable roller.The A-side closes with "Sound Issue 84", definitely another dance tool, a tight hi-hat contrasted with dubbed out chords that hypnotise.
Tilman says "Vice Versa" is "the love song of the EP". Real classic house vibes on this one; melodic piano that feels totally alluring - something to spark a dancefloor romance. "Mercury Hill" builds into maximalism, a shimmering eclectic collection of sounds. "Say Good Bye" takes a real 90s house approach - it wouldn't be out of place in the golden Ibiza summers, and leads well into "Make You Hot".
The record closing track has a sound that sums up the EP overall: grooving upbeat music built to make you smile. Digital bonus track, "Lemon Venom", is also a hidden gem... smooth, swinging chords that build up into a glimmering crescendo of plucky melody, it's a euphoric club heater.

A1 – Relax Yourself
A2 – By All Means Featuring Louisa Laos
A3 – Beauty In The Dark
A4 – Sound Issue 84
B1 – Vice Versa
B2 – Mercury Hill
B3 – Say Good Bye
B4 – Make You Hot