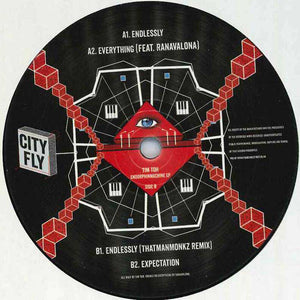 Marking its 11th release, Leicester-based label City Fly welcome Philpot regular Tim Toh to its already impressive roster spanning DJ Nature, Fred P, Andres, Medlar and Basic Soul Unit.
The Berlin artist is also renowned for his works on the likes of Ornaments Music, Delusions of Grandeur and Mild Pitch, and his idiosyncratic vision of electronic music is one shared with the discerning minds behind City Fly.
'Endlessly' is a track that melds interlinking rhythms with vocal snippets before easing in to a beautiful Rhodes sequence containing all the hallmarks of an absolute floor filler. 'Everything' then features the beautiful vocals of Ranavalona to engineer a track dripping with pure soul, making way for a remix from Thatmanmonkz that focuses on rhythm whilst boiling the piece down to a slice of timeless house.
Finally 'Expectations' is a number exhibiting Toh's avant-garde approach to music production whilst still focusing squarely on the dancefloor.
A1 – Endlessly
A2 – Everything feat Ranavalona
B1 – Endlessly Thatmanmonkz remix
B2 – Expectations