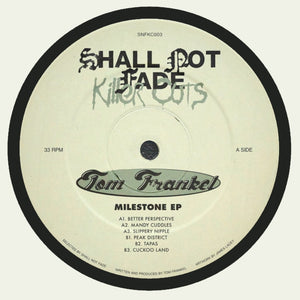 Next up for Shall Not Fade's new Killer Cuts series is London-based DJ and label boss Tom Frankel. The up-and-coming producer has gained attention and respect for his slick techy house cuts that take from a range of classic house and UKG sound palettes. He makes his debut on Shall Not Fade with Milestones EP, six tracks of skippy house that reminisces early 90s raves.
The record meshes modern sounds with nostalgia; "Better Perspective" is a pulsing laid back house track but with a swerving bassline that gives it edge. Frankel experiments with the sounds of a warehouse rave in a nod to dancefloor romance, "Mandy Cuddles" - melding the classic M1 house piano with searing jungle vocals that cut through the melody like a laser.
Showing the cheekier side of his production, "Slippery Nipple" pays homage to filter house, a skippy garage bassline bringing it up to date. The funkiness of this one is unavoidable, making even the most static hips move; onto "Peak District", a throbbing 90s style roller to keep the pace going.
The two final tracks dabble in the darker end of Frankel's sound palette; "Tapas" adds heavy bass and percussive organ stabs to a clean house sound while "Cuckoo Land" is a deep, sweeping club track that formed a spaced out end to an otherwise high-intensity EP.

A1 – Better Perspective
A2 – Mandy Cuddles
A3 – Slippery Nipple
B1 – Peak District
B2 – Tapas
B3 – Cuckoo Land