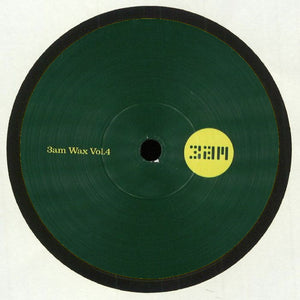 A little later than scheduled, but we're back in action with the 92nd release on 3am Recordings, this is the fourth instalment of the "3am Wax" series, showcasing artists who have been part of the label family for some time & whose work we love on vinyl-only.
Kicking off the EP is long-time 3am artist Carlo Gambino. The last few years have been very kind to Carlo - not only has he remixed of his personal favourite tracks, namely "After All" for Franck Roger's Real Tone Records, he also had an absolute smash in the Summer of 2020, with "Dance For You" on Cinthie's We_R_House label, which was a sell-out all over. That's alongside his usual flurry of quality deepness for labels across the board. Here we have a typically bumpy affair from him, with his familiar low-end-bothering bass & dubby stabs, this time with a very tongue-in-cheek vocal flowing through the track. More deeply chunky vibes from Mr Gambino!
A2 comes from Lee Guthrie, head-man at the superb Click Therapy & purveyor of outstanding bassy cuts, which fall somewhere between the modern flowing tech/deep house of Eastern Europe and the rolling percussive vibes of Siesta/Halo & Hipp-e from the early 00s. One thing is guaranteed, you're in for a proper workout when Lee is at the controls & this is no different. Percussive tightness & a heavy bass lead into some old-school rave-style stabs, which just add to the modern/retro combination & it works so well. We're absolutely buzzing to have Lee back on 3am.
B1 is a welcome return for mastering-guru & all-round awesome guy Rob Small. We're very honoured to have Rob back on 3am - he has been so busy as the "go-to" mastering guy, it's tricky to squeeze in productions, but this remastered version of his "Fear & Loathing" track, which was originally a digital release, showcases why it's with the wait. Amazing drum programming, subby bass, warm stabs & a tripped vocal make this a superb return for Rob & we're incredibly proud to have him back on the label.
Finally, the EP is closed off in warm & dubby style with "The Golden Ratio", from label boss Al Bradley. Swirling pads & a dub-house style create a superbly warm affair, this works perfectly in both warm-up or deep afterhours sets, showcasing Al's deeper side. With vinyl releases lined up for 2021 on Reflections Of Yesterday, Rejekts, Call & Response, We're Going Deep, plus his artist album on 3am later in 2021, it's looking like a solid year of wax for Al.

A1 – Carlo Gambino – I Told Ya
A2 – Lee Guthrie – Truffle Shuffle
B1 – Rob Small – Fear & Loathing (2020 Remastered Mix)
B2 – Al Bradley – The Golden Ratio