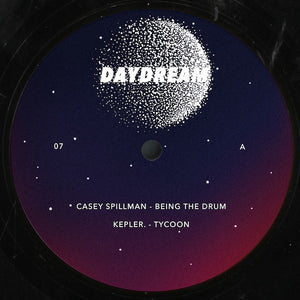 The Daydream family is truly honored to present its latest various, this 7th release is a special one as it brings together forces who've previously released on the imprint.
Casey Spillman opens this new chapter with a poetic and powerful piece, followed by Kepler. who delivers a very deep and nervous cut.
On the flip, Le Louche launches an impressive rolling bomb, while MJOG closes the various by a solid and dubby odyssey with a delightful acid touch.
Track by track, sounds after sounds, this new various gathers everything that make our signature, it's family business!
A1 – Casey Spillman – Being The Drum
A2 – Kepler - Tycoon
B1- Le Louche – Forwards Mars
B2 – MJOG – Sun Is Out