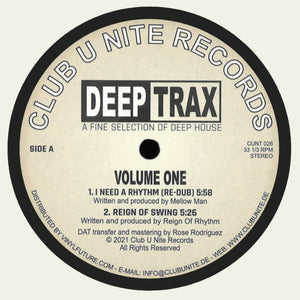 'DEEP TRAX VOLUME ONE' is a fine selection of 4 edited, remixed and previously unreleased Trax from the 90s.
The EP starts with a re-dub of the classic 'I Need A Rhythm' and gets you flying with warm 808 beats and minimal jazzy riffs. The second track on the A-side "Reign Of Swing" comes with a deep, warm bass, dope keys and lots of shuffle!
B1 kicks out the subwoofers with 'All I've Got' and makes the crowd scream - Uuhhhh! The E.P. ends with 'Swing Ting', a brilliant track that takes you into other dimensions with a flying jazzy flute solo!

A1 – Mellow Man – I Need A Rhythm (Re-Dub)
A2 – Reign Of Rhythm – Reign Of Swing
B1 – Da House Maroon – All I've Got ('93 Dope Mix)
B2 – Formular X – Swing Ting (Jazzy Flute Mix)