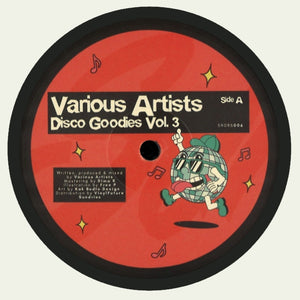 Welcome to SNDRS006 Various Artists - "Disco Goodies Vol. 3", the latest vinyl release from Sundries. It's a 3rd edition by Sundries label who deliver to us on fine selections of underground disco house gathering rising talented artists from around the globe.
This four-track beauty kicks off with the track "Your K", by Scruscru and Meowsn. Two prolific producers known for their avant-garde approach, blurring boundaries between house, hip-hop and disco joined forces to deliver tight beat soulful house jam with nostalgic radiance showered with wobbly fluttering atmosphere and blissed out keys carried by buttered slap bassline.
The A2 position is reserved for Mexican nu disco master Hotmood, who has been dominating the disco charts for several years. He's back with "Hard Feelings," a funk-geared groove infused with bluesy keys and a head-bopping drum groove. Vocals fit perfectly into drops, which build energy for the next hard-hitting section bump.
On the B1 flip side sits a dynamic duo from Moscow and Saint Petersburg Lowres, who is well versed and versatile, bringing some analog heat with the track "Slishish" . With sounds that harken back to the glory days of 90s French disco house. A track with a fat bottomed beat and a dusty cosmic atmosphere that is warped around near-perfect bassline grooves that seduces and teases. Lowres showed their sampling skills and technique by perfectly blending phased-out "Stardust" like guitar in warm air.
Erik Ellman, whose releases on SlothBoogie and Berlin House Music have made him a well-known name in the underground scene, contributed the song "Tribal Disco" to spot B2. This song's main driving forces are disco-inspired percussion rhythms, soulful pitched vocals, and strings, which together create the ideal fusion of disco and soul. Its key samples, which draw inspiration from everything from "Motown" hustle to disco house mood, ensure this.

A1 – Scruscru & Meowsn – Your K
A2 – Hotmood – Hard Feelings
B1 – Lowres - Slishish
B2 – Erik Ellmann – Tribal Disco