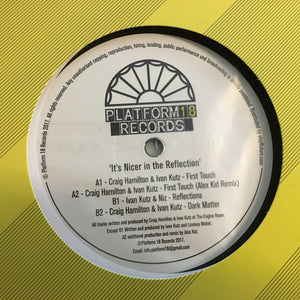 Platform 18, known as one of Glasgow's most distinctive parties drops a solid no nonsense 4 track EP made for the dancefloor. Comprising of 3 original collaborations from the Platform 18 residents Ivan Kutz, Niz and Craig Hamilton backed with a remix from former Parisian turned Berliner Alexkid. The label set up to showcase the home-grown talents of the residents and collaborative efforts amongst friends.

'First Touch' a collaboration between Craig Hamilton and Ivan Kutz opens the EP with crisp percussive elements, solid grooves and trippy hypnotic leads. Before continuing with Alexkid's interpretation of the lead track, a more stripped back, dubby and somewhat moodier groove. Synth drones and obscure stabs add texture alongside scattered hypnotic tones, over driving rhythmic elements.

On the flip 'Reflections', marks a collaboration between long time Platform 18 selectors Ivan Kutz and Niz. Deep dubby drones dominate throughout over peppered percussive elements and layered key stabs. Carefully placed spoken word vocals lead us through the break rounded out by slick beats. Hamilton and Kutz close out the EP with'Dark Matter'. Gritty dark tones layered with arpeggiated keys over intricate percussive elements. Dubby analogue stabs and an uncompromising sub add just enough tension to drive the track forward.
A1 – Craig Hamilton & Ivan Kutz - First Touch
A2 – Craig Hamilton & Ivan Kutz - First Touch Alex Kid remix
B1 – Ivan Kutz & Niz - Reflections
B2 – Craig Hamilton & Ivan Kutz - Dark Matter