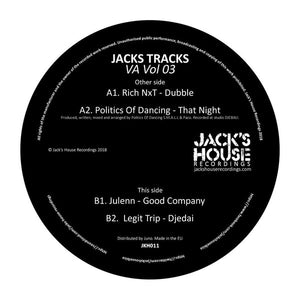 Jack's House Recordings is back with another instalment of the Jacks Tracks VA series. Previous releases have included artists such as Alex Arnout, Terry Francis, Tuccillo, James Dexter and 2VILAS.
Instalment number 3 features 4 great artists feat Rich Nxt, Politics Of Dancing, Julenn and Legit Trip.
First up is Rich NxT from the UK with a dark rolling number with a quirky melody coming in and out of the arrangement with subtle drum n bass influences also coming through.
Next up on the A side are popular duo from France, Politics Of Dancing with a solid house track that grooves all the way through carried along by a strong baseline and stabs.
On the B side, Julenn (also from France) who launched his first track with the imprint, is back with another brilliant slightly jackin influenced track full of punch, drive, busy percussion and some celebratory vocal snippets popping up in the breakdown.
Last but by no means least, the talented Legit Trip from Russia with Djedai. This super cool understated minimal house track will have you head nodding from the start to the end and has a interesting Russian spoken vocal ! This track definitely is the definition of less is more, and this one will stay in your head.
A1 – Rich NXT – Dubble
A2 – Politics Of Dancing – That Night
B1 – Julenn – Good Company
B2 – Legit Trip - Djedai