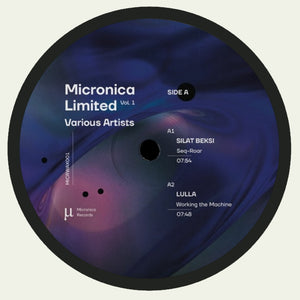 Micronica Records presents their first release from Micronica Limited vinyl-only series, which features four carefully selected tracks perfectly fitting the overall vibe of the label.
First track on side A, "Seq-Roar" is produced by an Ukranian artist Silat Beksi, who has proven himself to be one of the top producers in the scene, known for his unique combination of rhythm & special imprinted textures.

The second track, "Working the Machine", is by a Miami-based Venezuelian, Lulla, a straight-forward twisted minimal sound with its hypnotic vocal stabs and percussions, perfect for any occasion on the dancefloor.

Flipping over, "4th Planet" on B side is by an Israeli duo - userUNKNWN & Soyro, a warm and steady-paced rhythm designed with ever-evolving background pads, inspiring variations and a seductive vocal, while the synth stabs add a subtle funky flavour to the narrative.

Micronica's finest D I N & iOAN with their "Two Parallels" close the VA with a driving rhythm powered by warm background textures, quirky percussive patterns and twisted background themes with spiralling effects.

A1 – Silat Beksi – Seq-Roar
A2 – Lulla – Working The Machine
B1 – Userunknwn & Soyro – 4th Planet
B2 – D I N & Ioan – Two Parallels