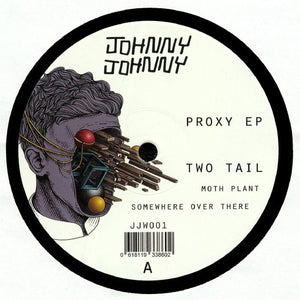 This has been a long time in the making as we wanted to make sure that this EP was perfect. And to say we are proud of it doesn't even come close.
This record showcases two artists who we have had our eyes on for over a year now, and its truly our pleasure to be showcasing them on on 110grams of pure listening pleasure!
A Side: Two Tail brings home the bacon with two absolutely stunning tracks.
First up we have Moth Plant' which is its packed with gritty bass and grooves to shake your hooves. Its a track that puffs its chest out, and for good reason.
Second track on A1 is called Somewhere Over There' and its rinsed with warm pulsating chords and haunting pads, broken rhythms and subtle flavours that round these two tracks perfectly with all that Two Tail Flavour.
B Side: Modat is his name and doof doof is his game. Debuting his first ever release with us at JJ. And we already can't wait to see what else he's got coming.
First track is called Thats Good', and ITS good, really good infact. Its a straight up late night club groover. Peppered with blips and bloops and a catch vocal sliding over the top, this ones sure to get your toes tapping.
And last but not least Modat delivers something very different to round of this record. Say What' is something new, something we haven't heard before. We really wanted this record when we heard it, and knew it was perfect for our first release on wax. This breakbeat track really does boast some lovely sounds. Inviting pads, and floating synthetic fillers throughout accompanied by massive sounding beats. Its just lovely.

A1 – Two Tail – Moth Plant
A2 – Two Tail – Somewhere Over There
B1 – Modat – That's Good
B2 – Modat – Say What