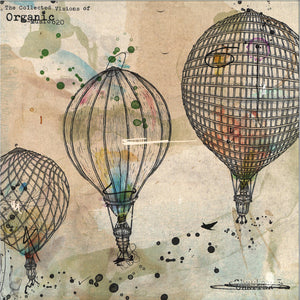 Time To Celebrate The 20th Release In Style With A Double Vinyl !! It Has Been An Amazing Ride Til Now So We Hope You'll Enjoy Our Collected Visions :
-Chapter 1 : A1 - Rhadow / Redshift
Recorded In May 2018 In Brasov / Romania.
A2 - Dust Yard / Oxyd
Conseived At Dawn Near A Noisy And Rusty Parisian Station During Spring 2018.
B1 - Alphabets / Nebula Rings
Created On A Cold Winter Night In A Attic Overlooking South East Berlin.
B2 - Janeret / Comet
Assembled In The Early Morning Hours In Montreuil, December 2018.
Chapter 2 :
C1 - Diego Krause / Immersion
Carved In Martha's Apartment, Rue Des Epinettes During A Stay In Paris, January 2018 .
C2 - Ntfo / Sureshot
Composed In A Chalet In The Carpathian Mountains During The Last Days Of 2018.
D1 - Djebali & Bazbaz / Abraxas
Taped During The Warm Summer Of 18 In Tel Aviv By Djebali & Stephan Bazbaz.
D2 - Nick Beringer / These Phases
Lifted From A Studio Jam In Neukolln During The Summer Of 2018. Pens & Strokes By Staffan Larsson
A1 – Rhadow - Redshift
A2 – Dust Yard - Oxyd
B1 – Alphabets – Nebula Rings
B2 –Janeret - Comet
C1 – Diego Krause - Immersion
C2 – NTFO - Sureshot
D1 – Djebali & Stephan Bazbaz - Abraxas
D2 – Nick Beringer – These Phases