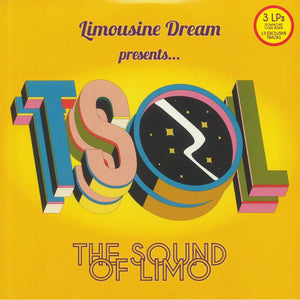 Gene On Earth returns with a new music outlet, but this time he's not alone. After three years spent establishing the sound of his label Limousine Dream through a succession of five EPs and one full length album, Gene has taken the next logical step and opened the doors to a plethora of artists, both new and established. TSOL - The Sound Of Limo - initiates a new series under the Limousine Dream umbrella. This first release is a triple vinyl compilation with 14 previously unreleased tracks. It features Sweely, Roza Terenzi, Dyed Soundorom, Liquid Earth, Sugar Free, and more. TSOL will continue to develop as the year progresses with a string of solo releases from artists on the compilation.

A1 – Sweely – Shut Up And Stay Home
A2 – James Andrew – Fantastic Bombastic
B1 – Huerta – Steve's Limo Track
B2 – Anderson – Freak Sound
C1 – Gene On Earth – Brown House Double Deck (Bhdd)
C2 – Liquid Earth – Yorbalinda Breaks
D1 – Voodoos & Taboos – Golden Age
D2 – Sugar Free – Hazme Sonar
D3 – Roza Terenzi – Snow Dive
E1 – Dyed Soundorom – Up There
E2 – DJ Pipe – Mini Abstract
F1 – Noiro – Achtung, Achtung!
F2 – Taslo Valve – High Sprockets