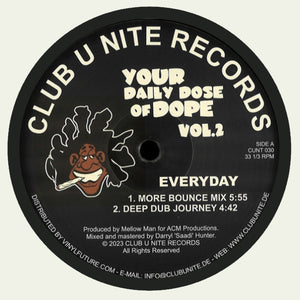 CLUB U NITE RECORDS PRESENTS: Your Daily Dose Of Dope Vol.2 We're kicking off spring with new House gems that will make your sweet behind move.
A01 starts off with 'Everyday', an old-school stomper with a touch of soul and funk, while A02 gives you a satisfied smile with the 'Deep Dub Journey' and a jazzy piano.
B01 hits you with a dry kick and spoils you with deep Rhodes samples in 'Get Up'. The 'Jump For U Version' wraps up this EP full of old-school vibes..... for you!

A1 – Mellow Man – Everyday (More Bounce Mix)
A2 – Mellow Man – Everyday (Deep Dub Journey)
B1 – Dma – Get Up (Final Factor Mix)
B2 – Dma – Get Up (Jump 4 U Version)