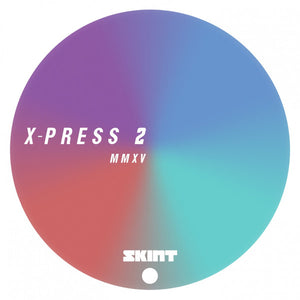 X-Press 2 are gearing up for an exciting 2015 with a formidable string of releases due on Skint, and further high profile labels. But before they enter a new chapter we offer a set of un-released dance floor driven productions that wrap up the duo's last few years of works and set of Single/EP's that saw release on the Skint catalogue. This is MMXV.


True to the body of work that was appearing in the period of production, MMXV introduces itself with "You're Gone", a house roller that woos you into the groove. "Down" continues to pursue the dance floor with rattling vocals and shaking percussion.


As we flip the 12", we are warmed by "Cirius Stab", which softens the beat and fixates us with a bubbly sense of joy. To further, an act renown for cow bells since 1992 with the anthem "Muzik Xpress", "Remedy" delivers a smooth ode to the UK house sound that X-Press 2 were constructively heavily involved with.
A1 – You're Gone
A2 – Down
B1 – Cirius Stab
B2 – Remedy